CSS Menu Generator Sample
Overview
CSS3 is changing how we build websites. Even though many of us are still reluctant to start using CSS3 due to the lack of support in some browsers, there are those out there that are moving forward and doing some amazing stuff with its cool new features. No longer will we have to rely on so much JavaScript and images to create nice looking website elements such as buttons and menu navigations.
You can build a cool rounded navigation menu, with no images and no Javascript, and effectively make use of the new CSS3 properties border-radius and animation. This menu works perfectly well with Firefox, Opera, Chrome and Safari. The dropdown also works on non-CSS3 compitable browsers such as IE7+, but the rounded corners and shadow will not be rendered. CSS3 transitions could one day replace all the fancy jQuery animation tricks people use.
How to use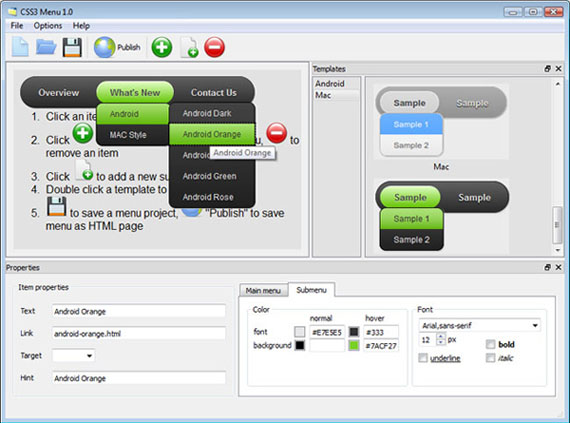 1) Open CSS Menu Generator software and click "Add item"

and "Add submenu"

buttons situated on the CSS Menu Generator Toolbar to create your menu. You can also use "Delete item"

to delete some buttons.
2) Use ready to use Templates. To do it just select theme you like in the "Templates" list. Double-click the theme you like to apply it.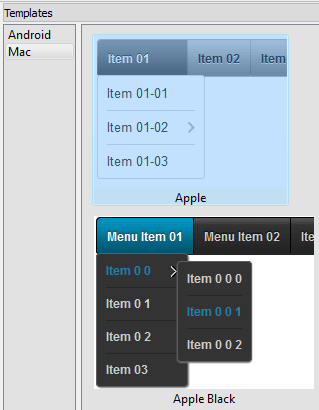 3) Adjust appearance of the menu.
3.1. Select item by clicking it and change button appearance for normal and hover states and set buttons link properties and link target attributes on the "Main menu" tab.
3.2. Select submenu's item by clicking it and change submenu's appearance for normal and hover states and set submenu's item link properties and link target attributes on the "Submenu" tab.

4) Save your menu.
4.1. Save your project file. To save project just click "Save"

button on the Toolbar or select "Save" or "Save As…" in the Main menu.
4.2. Publish your menu in the HTML format. To do it click "Publish"

button on the Toolbar.
css based left start menu Css Menu Border
Free Download
CSS3Menu Free Trial can be used for free for a period of 30 days.

If you would like to continue using this product after the trial period, you should purchase a Commercial Edition. CSS3Menu Commercial Edition additionally provides an option to create multicolumn menus and includes extended sets of menu templates and icons. After you complete the payment via the secure form, you will receive a license key instantly by email that turns the CSS3Menu Free Trial into a Commercial one. You can select the most suitable payment method: credit card, bank transfer, check, PayPal etc.
Support
For troubleshooting, feature requests, and general help, contact Customer Support at

. Make sure to include details on your browser, operating system, CSS Menu Generator version, link to your page.
css dropline menu highlight
Templates
Simple Blue

Simple Blue

Simple Blue
Screenshot
Features
100% CSS-driven designs

The menu is based on HTML list of links (UL/LI structure) and CSS only. No additional non-css params are used.

Cool CSS3 properties

Multi-level dropdown menu is created using border-radius, box-shadow, and text-shadow.
Opacity, backround and font colors, linear and radial gradients are also supported.

citrix css vertical menu problem
Contact us
For troubleshooting, feature requests and general help contact Customer Support at . Make sure to include details on your browser, operating system, jQuery Carousel version and a link (or relevant code). jsp menu with css code
Feedback
* I first must say that after a few days of lost time trying to figure out some other ways to do this stuff, landing on your website to find and use your great little utility for css3 menus was just wonderful! You have made a complicated task look quite easy... lots of work behind your took I'm sure.

* Just stumbled across your programme...brilliant! I am no web expert but have built a nice menu. It looks great!

* Let me start just congratulating you, good job, really. I am trying out the free version before I buy it. It works great.
Awards














Css Menu Border Blogs
Tweet Tweet!
RSVP Here --> http://sch.mp/EDqnixI Sofitel Hotels Introduces "De-Light" #Sofitel #Menu #Health
ilikeitwhen I Go to Mcdonalds and it has a 1$ menu
I had to google McDonalds menu for that. I don't know what those people sell. Doesn't matter, was going out for sex.
RT : "When the waiter figured out that we were using a Groupon, he whisked away the specials menu." Such dignity! groupon http://slate.me/kciUup
A few years ago on a consultancy gig, I saw a well-known chef microwave an Uncle Ben's sitrfry and sold it on the menu for £18
I understand developers need to make money, but I'd much rather pay more than have ads sprinkled into every open space of every game menu.
Check out Rick's blog on the new SCCM 2012 capabilities http://t.co/pfFcrpj
RT : S&P's Happy Hour starting 2day! 5 menu items for $5, 1 each white wine, sparkling wine, red wine, & brew for $5! SeeTim & Em in the bar!
Get a large specialty pizza--check out our American Legends on our menu--for just $11.99 and get a medium 1-top for only $5 more--delivered!
just seen border patrol :o
On the menu for lunch: Tilapia Tacos... Yum! Yum!
i knooow! They're so cute (: but mine is retarded. Border collie & german shepard is the smartest dogs, but mine is retarded
RT : I must be getting old ... But I quite like the Seniors menu at Spur <- is that similar to the kiddies menu?
Hungry af..what's on the menu??
"... screenshot of CSS ..." Crazy times are crazy?
Evening will include: A glass of fizz on arrival. 3 course French menu. 3 glasses of French wine. Performance by Christine Bovill
my summer tv menu: True Blood and Falling Skies.
I think I may have figured out this 960 CSS grid system. At last!
what in the world is doing north of the border, pause............
oh boy do I miss Euro Gyro. And drunkenly smashing on everything on that menu! Favorite food in Akron.
Our truck is in for repairs but you can still have a BALL 2nite from 7pm-2am. 1356 Palmetto St #DTLA. Ask bar for menu!
Have you played our new game yet? Select "SexQuest" from the menu below to start playing today! It's fun, exciting... http://fb.me/vsvJLa3k
RT : Gbaakornornor *bother* still a fan tho RT : Mistakes Are Made By People, So It Does Not Border Me When I Make
Make sure you check out the menu pictures if you ever go in the box - see if you can spot your lookalike!
Ready for NOLA?? RT : Save the date 4 ASHP's Midyear Meeting (Dec 4-8). Reg opens July 7: http://bit.ly/h4bBjV
We just passed the border into Illinois!! Just want to say OKLAHOMA was NOT nice to us...!
Going over the menu for the family BBQ this weekend and now I'm hungry.
there's plenty of them. And everywhere apart from China has burgers, pizza, fish & chips etc on the menu. The pie is rare though!
Awww! I looovee border collies!
Reading Jus Burgers menu and saw it in there!
Over the Connecticut border. #DownWithTheHuskies. #KnoxvilleBound
not home this week for dinner much, but have a delivery for my fish peddler. Made this with her rhubarb: http://is.gd/MlIxqS
We've added bacon & shrimp to our mac & cheese. Why? Cause it makes it THAT MUCH BETTER! It's on our "11 for $11" menu. Come get you some!
Ballin my ass lol im bout to go hit the dolla menu wit dat
Californos has an amazing menu available right now -crisp salads like our beet salad with goat cheese, candied pecans with grilled chicken!
is the juicy lucy on the menu today?!
I dribbbled this earlier. : http://t.co/zsj8GTd
Unless his ass wanna border hop to ma future
RT : Looking for an HTML 5/JS/css/php mobile web contractor for a 3mo contract Central London working in digital media, @/dm for more info
#Free #HTML / #CSS #Templates for Download http://t.co/QrP2J3c
right outside of GA border.
Damn he don't even got $3.50 Smh RT : I told him I need a nigga to at least treat me to the dollar menu at Mcdonalds
S&P's Happy Hour starting 2day! 5 menu items for $5, 1 each white wine, sparkling wine, red wine, & brew for $5! SeeTim & Em in the bar!
RT : If you tell me you are overwhelmed by Kardashian Ass news, you might as well tell me you're overwhelmed by the McDonald's menu. #YouAreDumb
Hey #EastSide #Orlando! Coming to you tonight since Maitland is canceled! Menu of what we will have here: http://t.co/qBvUNPn eatlocal
So how come Whitey #Bulger wasn't identified & arrested at the border whenever he crossed into #Tijuana to get his meds?
momma will bake nastar (pineapple cookies) for sunday's flea market. I guess this means momma's special menu for 's bazaar.
altoarizona Hacked Arizona Police Document Contradicts McCain and Brewer's Border Violence Claims http://huff.to/jJum3y
Lunch Time !!! Whats on the menu ?
star light, star bright, first star i see tonight, i wish i may, i wish i might, animate to auto height css
 #Synovate Surveys are available to you by logging into your member account and clicking "My Surveys" in the menu.
Check out our Indiana Beer Dinner Menu. We still have seats available. http://t.co/OgZTART
Savills News: Caroline Liljedahl joins Savills Cross Border Investment team: International real estate advisor Savills has appointed...
Whats on the lunch menu?
Yes, that's all you can change in the pregame menu.
Sooooo tired. Zumba may be off the menu tonight!
Here in SW Ohio, Taco Bell *does* have a breakfast menu. I haven't tried it yet, so I can't speak to how gross it actually is.
RT : Calling all foodies! Help transcribe historical restaurant menus, dish by dish! See what's on the menu: http://ow.ly/5rOeX
RT : You Listen: CSS - Move (Cut Copy Remix)
BLISS ignited a modern spa revolution by combining a clever menu of super-effective services and a fun,... http://fb.me/YzZk4Jgb
What did you have for lunch today when you dined at Bluewater? What's your favorite item on the menu? Mine would... http://fb.me/vuvbFcyR
Pizza hut might be on tha menu
#Belfast: Up to 55% Off À La Carte Meal for One at Menu http://t.co/UC6A3kw
RT : I hate being behind hippies ordering food. For the love of God, eat something that's on the menu!
DTN Indonesia: Govt urged to tighten security along RI-PNG border: A number of prominent Papua community figure... http://bit.ly/mpqY9I
You Listen: CSS - Move (Cut Copy Remix)
The cost of illegal aliens, getting higher. http://fb.me/XZqm6DtF
. We love u at On the Border in loveland!!!
Menu breakdown: New Orleans Roast Beef Po-boy with Creole coleslaw on toasted French bread - $6
Just spent 5min navigating a phone-bot menu, only to be transferred to a disconnected number. chase fail
Google's iPhone web apps just got a new menu bar. Check it out.
I'm studying this Applebees Menu... I've yet to see something I wanna eat..... shruglife
Make the Web, Cloud Do Your Work So You Don't Have To http://bit.ly/lrjB9N css
On the menu tonight, cumberland sausages mash and green beans, onion gravy, food for the soul (my kids fav)
I am loving Plan To Eat for my menu planning! I just signed up for the 30-day trial and it is amazing! http://bit.ly/jbqLDk
RT - http://ht.ly/5qfr2 20 Complete scripts to download. jQuery #JavaScript #PHP #CSS #CSS3
RT : Have you tried our $55 4 course menu in the Tap Room? Salad, cavatelli, braised lamb ribs, and strawberry shortcake!
vegan at a steakhouse?! CUT in beverly hills has a 3 course vegan menu: http://bit.ly/j1nn2a
i did this before with a hardcoded xml menu and just use the xmsl xsl module to put in menupane
she's doing her usually blonde bimbo act the actual dinner party is quite boring even tho the menu is foody
Oh, are you interested in joining our Thornton's throng on Sat if we can ascertain they have a veggie menu?
RT : I hate being behind hippies ordering food. For the love of God, eat something that's on the menu!
RT : 23 talib miscreants killed by US drone strike at Afghan border training camp....more to follow....
Need a Bagel Sandwich right now? Maybe a cheese cake? Order online from DD http://ow.ly/5rWQ5 Log-in to place your order.
Haha I know rite the bacon could be bigger but...I was sad when the took it off the menu...
Arby's has taken the turkey bacon club sub off the menu! haveyoucompletelylostyourmind
Menu breakdown: Seared Tuna Club, toasted focaccia, wasabi mayo, avocado, alfalfa sprouts and soy syrup - $7 Try not to drool
RT : I hate being behind hippies ordering food. For the love of God, eat something that's on the menu!
shutup.css turns every blog into that kind of blog. Highly recommended.
CSS Announce Free Download Collaboration With Primal Scream's Bobbie Gillespie http://tinyurl.com/3t3zkj5
*moves over to you and takes your hand as we climb into the bath* I ordered one of everything on the menu. We can share.
If your movie menu system needs a printed map, perhaps you need a usability person
RT : Calling all foodies! Help transcribe historical restaurant menus, dish by dish! See what's on the menu: http://ow.ly/5rOeX
New food truck: mobile farmers market - St. Louis Post-Dispatch http://dlvr.it/Y9n5h
It's Taco Tuesday! Come try the pulled pork, achiote chicken or yucatan prawn soft tacos for only $6. sooooo good! http://ow.ly/5sawV
Kids Menu  RT : Being treated for lunch nice http://twitpic.com/5i6tx5
"The last time I was in prison, I found out...That "tossed salad" is NOT a menu item" #TweetTheJoke:
RT : Catch me with a bunch of fucking mexicans crossing the border
did you guys change something on your end last night? I'm in the midst of developing a new template and the CSS is caching now
From : Chris Selley's Full Pundit: Bill. Takeout menu. Takeout menu. Bill. Jury duty. Takeout menu http://natpo.st/kc3pJC